Well Being
-Rest and relax at our peaceful getaway-
Our options & facilities can cater for all your needs
Enjoy an outdoor treatment, accompanied by the relaxing sound of the river's water to relax you in an exceptional setting. Or treat yourself with one of our other therapies or treatments …
OUTDOOR THERAPY
Enjoy an outdoor treatment, accompanied by the relaxing sound of the river's water to relax you in an exceptional setting.
RELAXING HAND MASSAGE
A relaxing therapy to release tension. A massage of the forearms and hands will allow you to release all your tension and stress.
Duration: 30 minutes
HAND CARE TREATMENT
The hand care treatment includes a hand massage and a manicure that includes nail cleaning, filing, application of a protective oil and application of a bio végan varnish (varnish + top coat). The oil used for the treatment is 100% organic.
The varnishes and nail care are certified vegan and are free of toluene formaldehyde, synthetic camphor, dibutyl phthalate, paraben, xylene and rosin.
Their formula, rich in bamboo rhizome macerate and organis silica, helps strenghten the nails.
The session lasts 30 to 40 minutes.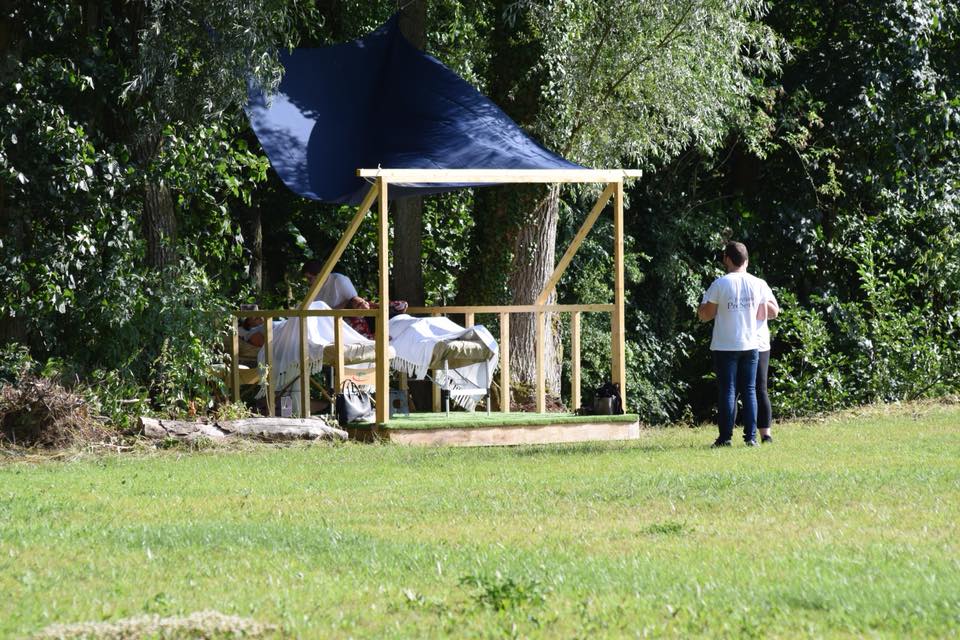 REIKI
Reiki is a form of alternative medicine of Japanese origin, which has been addapted into varying cultural traditions across the world. Reiki practitioners use a technique called palm healing or hands-on healing, through which a "universal energy" is transferred through the palms of the practitioner to the patient, in order to encourage emotional or physical healing. During the session, you will reach a state of immense relaxation.
Session lasts 30 minutes